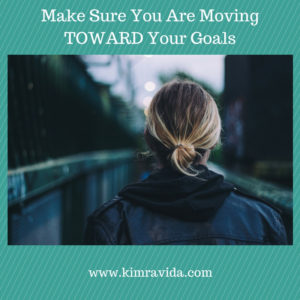 The number one thing that you as a business owner needs to do in order to reach your goals is to know exactly where you are going.
Toward or Away?
Are you moving toward your goals or away from them? You may be saying "well, of course I'm moving toward them." AND how do you know?
You move toward your goals when you are actively heading in the direction of your goal. Let's take make money. If you are actively going out and signing on clients or selling your products and services and have actual money coming in then you are moving toward your goal of making money.
Let's say though you are saying to yourself "I don't want to be poor" or "I don't want to not be able to pay my bills this month" then you are moving away from your goal.
What's The Difference.
You may be thinking "ya but, if I am motivated by not being able to pay my bills, I'll go out and get the clients I need so that I don't find myself in that position." And I can see why you would think that. However, the problem with moving away is that at some point you get far enough away from that feeling of what you don't want that your motivation stops and you end up creating that same thing that you didn't want.
Yes, it does create an initial case of being motivated because you don't want that but when the motivation disappears what happens is the exact thing you didn't want.
And so then, if you are moving toward what you do want such as plenty of money to easily pay your bills and then some, you realize that you can do more and you set higher goals. So instead of just having plenty of money to easily pay your bills, you will want money to perhaps give your favorite clients gifts or even give a gift to yourself or something of the like.
Move away from creates inconsistent results.  Move toward creates consistent results and then some.
Remember though, saying "plenty of money" is not enough to be able to reach your goal, as you'll learn below you want to be specific as in a dollar amount of what it is you want.
How To Set Goals That Make It Easy to Move Toward.
Lay out your goal(s) and determine what will move you forward stated in the positive.  Ask yourself the following questions:
Is my goal simple and specific?
Is is meaningful to me?  In other words, what is in it for you?
Is it achievable? How will other areas of my life be impacted?
Is it realistic and responsible and good for all?
Is it timed toward what I want? Put a date on when the goal will be completed.
There is ONE piece that will have you move toward reaching and accomplishing your goal consistently and that is As If Now. As if you already have the goal.
Let's say you want your goal to be as of December 31, 2016, you will write your goal As If Now: It is December 31, 2016 and I am now making $10,000 per month every month.
By doing so you move out of (or let's say away from) wishing versus desiring.  Wishing is saying "that would be nice if that happened someday." Desiring is creating a connection between your wanting and taking the action to get it.
What will it be for you? Are you ready to move toward? Go ahead and share your thoughts on my below or pop over to my Facebook page and share with me what it is you are moving toward. Feel free to state your goal as As If Now and what your first action step is that you will take to get you closer to your goal!